Sep.18, 2016
in
Black and Brown Alliance, Chicana Issues, Chicano Art, Chicano Movement, chicano news, Chicano Politics, chicano rapp & hip hop, Education, Entertainment, Environmental Concerns, Latino hip hop, Lowrider, Mexican American Cuisine, Native American and Indigenous Coalition, Politico, Studio B, Uncategorized
Telephone 909-965-3695

Joe Ortiz & Associates Public Relations

Email [email protected]


Website http://www.CRNLive.com




FOR IMMEDIATE RELEASE



Frank Mills Miranda: A Radio Icon Who Broadcasts All Things Chicano Worldwide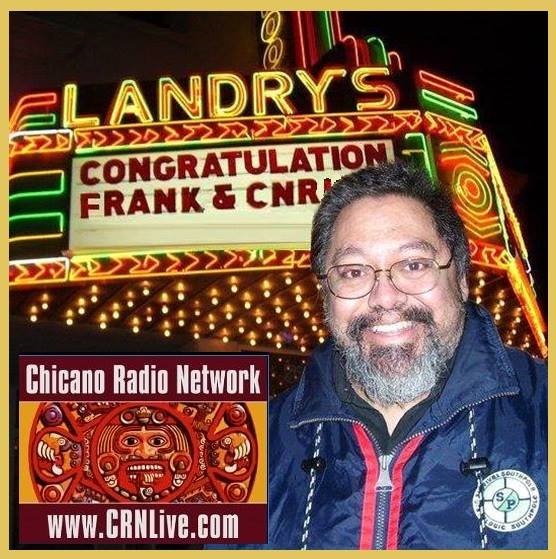 Los Angeles, California – Little did he realize when he was five years old that Frank Mills Miranda would become an international Chicano radio icon. As fate would have it, watershed moments that often reveal our future life's work come unexpectedly, even when one doesn't recognize that that prescient moment marked the starting point of a much traveled life in the broadcasting and recording industry.
Miranda grew up on a poultry ranch where his parents worked in Tucson, Arizona; his closest neighbors were approximately ten miles away, therefore his best friend was the Sonoran Desert. There was little (if no) interaction with other kids so the only life he knew was with his family. It wasn't until the weekends that he encountered other people when his parents took him into town to get a bowl of menudo. It was then that Frank not only had one of his favorite all time meals, he also had his first taste of the radio world.
Oftentimes a guy named Gabriel would also join the Miranda Family for a hearty bowl of his favorite Mexican breakfast; he was a close friend of his parents and relatives.

Frank can still remember at that tender age that when Gabriel would speak, he would be floored and in awe by the sound of Gabriel's voice, a deep vibrato tone, and so filled with authority.
While growing up there was a protocol like in most Chicano families in their respective communities that you were to remain quiet not to chime in while adults were talking. One-day Frankie decided he would learn more about Gabriel when he joined the family for breakfast, that one Sunday morning and Frankie boldly (but respectfully) asked him what he did. Gabriel told Frankie that he worked at a local radio station. Frankie was all ears. After explaining what he did, Gabriel seeing a gleam in Frankie's eyes and asked his parents if they could bring Frankie to the station, and he would show him around. At that age time moved too slowly for Frank as the seven days before the next weekend seemed like months.

When Sunday came around, Frankie was excitedly up early to see this radio station that was described the week before.
First Gabriel introduced him to the other air personalities and the rest of the staff. After a few friendly exchanges, Gabriel took him to one of the small broadcasting booths and then allowed him to talk into one of the microphones in the production room. When Gabriel played the recording back, Frankie's eyes grew wide with excitement. Right then, in his mind, Frankie felt like he was the biggest star in the world. Little did he know then that in the future Frank Mills Miranda would eventually play a big part in the broadcasting arena, primarily to his fellow Chicanos throughout the Southwest, and now internationally, as the founder of the Chicano Radio Network U.S.A.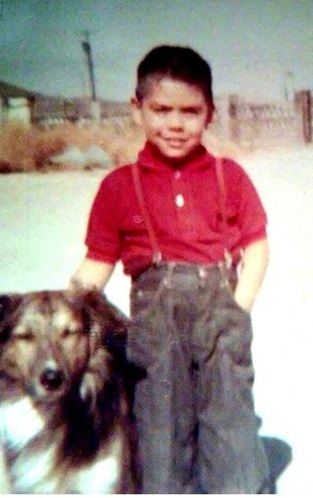 Photo taken behind Alice's Bar (Grandmother) on 29th and I-10 in Tucson, AZ



JOA: Your broadcasting die may have been cast at the tender age of 5; but at what point did you see your dream becoming true?



CRN: "In 1982, right out of High School, I started Star Sound Productions, which became the umbrella of every -thing I would be doing in entertainment in the future. My objective in the beginning was simply to provide local entertainment with band promotions and disc jockey services around the Tucson area. At first it was a stage set-ups and disc jockey services. I would do concert set-ups where I provided all the sound equipment, speakers, microphones and I also ran the mixer board. Our local on-air personalities would be the disc jockeys or Masters of Ceremonies for events in the Tucson area."



JOA: There must have been other folks around that could do that kind of work, what made you so unique?



CRN: "The uniqueness is that I would only hire my local on air personality friends. We owned the town during that period. Then we started distributing music. This is how I came to know Art Laboe, the legendary DJ who invented the Oldies but Goodies, Golden Oldies and Dedicated to you volumes. I would get record labels to give me exclusivity in my markets so that I would be the only one supplying those areas. Plus, I signed exclusive talent contracts as well.
Since the company's early beginnings, we have done music publishing, record label releases, managed artists and everything radio. Among the many cool things we did were some very important collaborations like being the media sponsor for the ALMA Awards since 2006, Licensing for the East Side Story series (these series are a staple of Chicano's everywhere), Thump Records, plus many others including movies just to name a few.










JOA: When did you decide to actually get involved with radio stations?



CRN: "In the mid-90's, I Managed radio stations KOHT, KXEW, KTZR for the Art Laboe company. This was another blessing because I was able to run the very first radio station (KOHT) in the country to go bilingual English/Spanish. I wish I could take credit for it but that was the brain child of my friends the Manic Hispanic (James Rivas) and Rick Verdugo.
I can't remember the call letters when I first stepped in to the KXEW 1600AM station at the age of five but when I managed it as an adult I changed the format from regional Mexican music to Tejano (Texan) music in 1994 overnight.
I remember getting so many positive messages for KOHT saying how ground breaking the format was. I even heard from a local professor who taught Spanish, saying, he instructed his students to listen to our station because it was the closest too full (Spanish and English language) assimilation.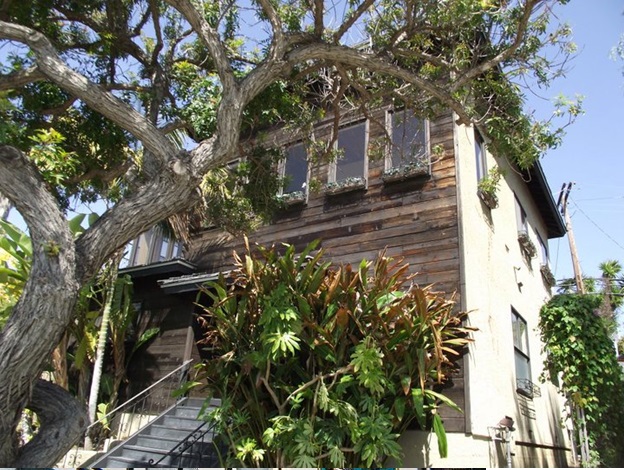 Photo: The radio network was created on the second floor of my house in Dana Point, California in Orange Country.



JOA: When did you decide to start your radio network?



CRN: "In 1995, while living in Dana Point in Orange County, California I decided to start a new network for Chicanos by Chicanos, this would allow me the opportunity to see first-hand if my formula would work. I called it the Aztlan Radio Network. I had a transmitter under the low power FCC laws that was heard in Dana Point, San Juan Capistrano, Capistrano Beach and San Clemente, California
When I started the network we didn't have streaming so our programming consisted of a one hour show in loop. Even when streaming was introduced, I would attend the NAB (National Association of Broadcasters) conferences to see what was new in technology. About two to three years later, streaming was at the same quality that our loops were so we introduced it to our listeners. Since then, we broadcast our feeds in HD digital. During this time the issue of how the artists were going to be compensated was still up in the air.
I was always on a quest to find everything consistent with Chicano music, and I felt I was the only one who could pull it off. Plus, I had in past years represented some of the nation's largest Chicano music publishing catalogs so I knew where to go when looking for certain tracks."
JOA: All new ventures encounter road blocks in their journey, what were some of yours?



CRN: "The first two years were a bit prehistoric in the sense that streaming was years away and so we were limited to a one-hour show that would repeat. We would update that show once a month. Now, with streaming, unless it's a special program that included a host and staff and artists, it is automated. We insert the shows when they are sent to us and the rest is programmed to reflect what our Chicano community's ask for and enjoy. I would tell people if anyone listened to our network for just 10 minutes, they would be hooked. I still say that.
About four years into the network, we realized that most people didn't know how to spell Aztlan, much less know what the name meant, so we changed the name from Aztlan Radio network to Chicano Radio Network. The name change was very specific to our Chicano community so more listeners were joining us.
"Then in 2001, I made it a point to reach out to other cultures by changing our name for the last time to CRNLive, which allowed us to have our artists showcased to a whole new demographic. The stage was set for us to reach higher than we had before because of the new listenership base."



JOA: CRN is now networking not just with recording artists, but it appears that many major institutions have joined the party.



CRN:" Yes, we are proud that many Latino organizations realized that CRN had the power to get the Latino message out to the majority of the Latino community. LULAC (League of United Latin American Citizens) at the time reached out to us, we had great conversations and I decided later that I would allow CRN to network with LULAC and, so, to this day we continue to promote their efforts.



Obviously our exposure was impacting us more than we could imagine and many other entities (besides Latino groups) began contacting us. We became a media source for the American Library Association including NCLR, American Diabetes Association, American Heart Association. The television game show, Jeopardy, became a constant caller to confirm Chicano and native related questions for their program. The last time they called was to confirm which of the Peruvian warriors was Tupac named after. We found out through his mother that it was the first Tupac Amaru (Thupaq Amaru) and not the son with the same name.


When Los Lonely Boys released their hit "Heaven" they had our network give tickets and meet and greets as they crisscrossed around the nation. We were the only Latino network solicited for the Lollapalooza. Record companies used our network to test market new Latino releases. Another example is when "The Mexicans" were the WWE's (World Wrestling Entertainment, Inc.) hottest acts the WWE called and asked us if we can have a themes song written and produced for the wrestlers. When Eddy Guerrero one of the top wrestlers went solo, they called us back to have a theme song written and produced for him as well.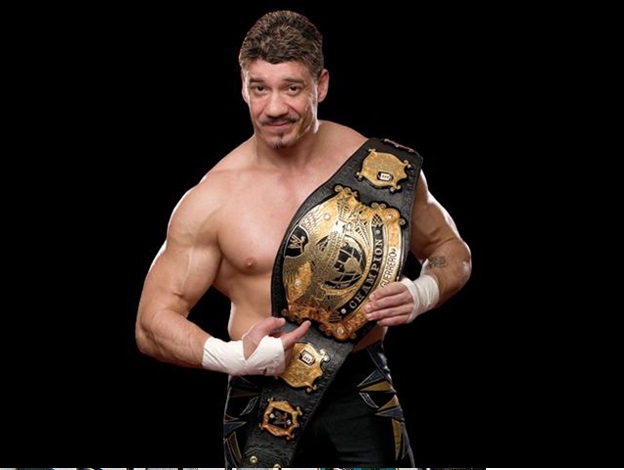 WWE Wrestling Champion Eddy Guerrero



In essence CRN became the sort of official entity to contact for all things Chicano. It is then when we knew we had arrived!"



JOA: Is this when you chose to become more involved with Chicano social issues?



CRN: "I've been a Latino activist all my adult life however, it didn't take long for me to realize how CRNLive could be a platform to engage the government and people when the basic rights of Latinos were challenged. CRNLive was a constant presence at most events that challenged our oppressors. Sometimes coordinating street teams to join in the protests. In 2006, Latino advocates from coast to coast came together to fight against various acts of legislation that were not sensitive to the Latino community, such as the Jim Sensenbrenner Bill HR 4437.



We quickly set up our CRNLive Communications Center's where we coordinated protests across the country with various national organizations and provided a news point for people to get the latest up to date information about rallies and protest marches. We helped defeat the bill but the win was bitter sweet as we saw that the law didn't pass, but it made ICE (U.S. Immigration and Customs Enforcement), more aggressive with their raids."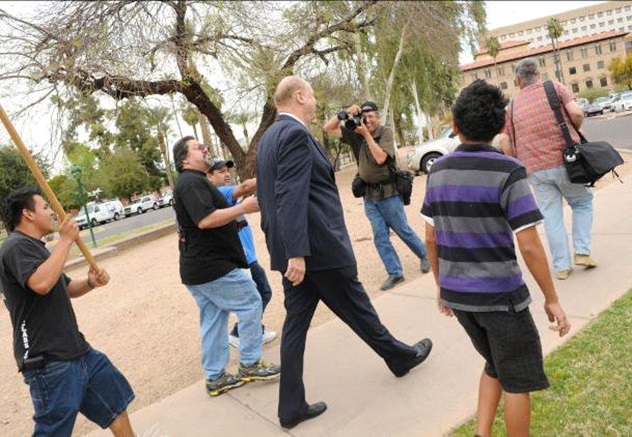 Photo taken at the Arizona State Senate with Attorney General Horn as he was ridding the state of Mexican American Studies


JOA: The word is out that that you didn't just sit back in your radio console chair:



CRN: "Yes, not only did I participate in many of the protests, I personally contacted my neighboring states to meet its leaders and to have them come together and help because the next battle ground might be in their own back yard. The brotherhood that came out of that meeting is still strong today as we continue to be the ones being dehumanized."



JOA: After those crisis situations, you had to go back and keep the ship afloat, right?



CRN: "Of course. For example, back in 2009, it was important to see my vision grow. I made another trek to California to meet with my movie star, musician and comedian friends to make them understand that like the era in the 60's, when Dylan, Lennon and those music icons made songs to protest the war, I explained to them that today is our 60's; if the message in our music is not heard loud and clear, the tide of hate against Mexicans can consume us all if we just let it run its course.



Some of the songs they recorded in that era are in rotation on our network to serve as a reminder of what can happen when we think of these things as someone else's problems and then a knock comes to your door. Sadly, crisis situations against minorities, especially Mexicans and 3rd world immigrants are growing instead of abating.



At any given time CRNLive is working on as many as 5-10 issues at a time. I receive calls for help in issues of immigration, domestic violence, and many discrimination cases. We are thankful that those that need help find us through the various channels we developed where we work with other organizations to find solutions for whatever plight our people are experiencing at the time.



For example, when SB 1070 was introduced by the vile Russell Pearce out of Arizona, just like a fireman with his boots nearby, we strapped up for our next challenge. The remnants of this hate bill is still being worked out today. My home state of Arizona seems to be the proving grounds for hate bills from that time on, such as birthright, harboring the undocumented, and other laws designed to discount the nation's future leaders."



JOA: You have been in this war for over 20 years now, and I assume you will continue to helm the ship?



CRN: Yes! We have developed plans and programs to respond to most crisis situations. But, my Chicano music vision needs to be stoked on a daily basis to stay alive. Today we are poised to unleash our Studio B once again. At its first run there was plenty of movement in the area of Latino rap, and show out of LA (Pocos Pero Locos) was syndicated to other states where our Brothers and Sisters were being featured. There were many record companies large and small putting out some great music, stories, and production. Upstairs Records from Texas, Low profile from San Diego, Dead Silence out of East Los Angeles, to name a few. With our resources being exhausted with battling hate bills, we felt we would put Studio B on hiatus, so we did.



Now I feel our music development talents are stagnant, Record companies have abandoned their Chicano Hip Hop releases because of the lack of radio stations to play them. Not because we have none but because all our ways to promote it have fallen to the way side. That's why we are resurrecting Studio B now. Another big reason is because now we can be heard in digital in your car, Smartphone, SmartTV and streaming which means you can start at Olvera Street in East Los Aztlan and drive all the way to New York without missing a beat. Our feed originated from 6th and Grand in downtown Los Angeles. In recent months we moved our servers to San Francisco. We upload in digital to all devices and in some areas we're on your FM dial.


Studio B is un-cut, meaning that you will hear music in its entirety. Since we mix in a lot of variations you can hear something hilarious to something deep; this is truly the whole spectrum for our 18 plus listeners."



JOA: Besides your advocacy and music aimed at your audience, what other projects do you have in mind?



CRN: I'm glad you asked that question. We are most excited about the relationship we have developed with the legendary Mark Guerrero, who is known not only for his Chicano music recording career, but for his historical archive of everything to do with the birth and history of Chicano music. Mark (son of legendary Chicano music icon Lalo Guerrero) is currently conducting a show on CRNLive, which includes interviews with a myriad of Chicano musicians and performers, which is called Chicano Music Chronicles. No one knows the history or the original performers of Chicano music like Mark Guerrero. It's now our number one show. People just love it!



Also, we are courting a long time national radio talk show host to hopefully come out of retirement. We can't mention his name but if we can get him to join us, it would be a major broadcasting coup for CRN and the entire Chicano community."



JOA: You would think that a radio communications entity like CRN Live would (or should) have a large staff. How many people do you employ?



CRN: Besides a few devoted volunteers who come in and out on a regular basis, and assist us, it's really a small operation. With four or five collaborators, unless it's a special program with a host, all else is automated. We insert the shows when they are sent to us and the rest is programmed to reflect Chicano music and news pertinent to our respective community."



JOA: To what do you attribute your success?



CRN: While I was growing up I've had many blessings in my life that allowed my life to be full and exciting.



I attribute it to the love and encouragement from my parents and later my wife and children. Just as important are the listeners, participants, volunteers and supporters we have throughout the world."



Frank Mills Miranda and Mark Guerrero are available for interviews; Call 909-965-3695 or (480) 748-1793




[Joe Ortiz Associates is a full-service public relations company, founded by Joe Ortiz, an award-winning journalist and broadcaster. Ortiz has the distinction of being the first Mexican American to host a talk show on an English-language, commercial radio station, at KABC Talk Radio in Los Angeles]



Joe Ortiz & Associates 626 N. Dearborn St., Ste 165, Redlands, California 92374




To submit music for Airplay consideration please send to [email protected]






# # #





2016 (c) Copyright CHICANO RADIO NETWORK U.S.A. a division of STAR SOUND MUSIC GROUP®
7119 Sunset Boulevard, Suite 850, Hollywood, California 90046 All rights reserved.