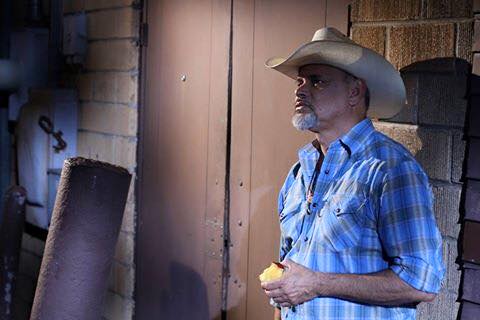 Photo Credit: Homebound Movie (Above) Enrique Castillo. An accomplished actor/writer/director, Enrique began his career with Luis Valdez's Teatro Campesino in 1969. As part of the Teatro, Enrique participated in workshops with English theater director Peter Brook's theater group which included now Academy Award winner Helen Mirren. In the early 70's Enrique traveled with the Teatro to Paris when they represented the U.S. at the World Theater Festival. In 1978 Enrique made the move to Hollywood and was cast in the hit play "Zoot Suit", also created and directed by Luis Valdez, where he played the lead role of Henry Reyna opposite Edward James Olmos.
HOLLYWOOD COMES TO PHOENIX AREA!
Award Winning Indie Film "Homebound" screens in Glendale AZ for one night only.
Phoenix, AZ — We are excited to bring "Hollywood into Arizona" for a special one night only theatre screening of Homebound.  We are excited to announce movie actor Enrique Castillo's presence at the screening in Glendale, Arizona, this upcoming Thursday.  This could not be possible without the financial support of the Chicano Radio Network and Frank Mills Miranda who contributed a significant amount of money in order for us to secure the theatre screen at the Westgate AMC Theatre in Glendale, Arizona.  
Chicanos, Mexican-Americans, and Latinos in Arizona have endured laws and minor setbacks with anti-immigrant legislation, eliminating Chicano Ethnic Studies from educational programs and more.  These moves were designed to make our community feel bad about our culture, however, because art imitates life, our community continues to overcome these  small setbacks by promoting art and film in the entertainment industry that instills a strong sense of Chicano or Latin pride on the big screen.  Homebound is a heart warming movie about immigrant(s) and American born citizens of Mexican descent that depicts us in a positive light.
We want to give special thanks to Bel Hernandez (Latin Heat Entertainment), Michael Reyes (La Paz Restaurant owner),  Adam Sandoval, Marie Escobar and George Diaz for helping us promote this special event.
From the Film Director of Homebound, Fanny Veliz:

Los Angeles, CA – Jan 15th, 2015 – Writer/Director and actress Fanny Véliz raised production funds to shoot her first feature film, Homebound, through the increasingly popular internet crowd funding method.  Now that the film is complete she is turning to the community once again with a unique concept. " Bring my film to your town." Says Véliz. The goal is to show to Hollywood that there's a hungry audience out there ready for a film like HOMEBOUND.
It is about empowering the community to empower filmmakers to tell the Latino stories Hollywood chooses to neglect.  To do this the filmmaker has decided to use the web platform TUGG.com. TUGG is a crowd sourcing platform that gives people the ability to bring the movies to their local movie theater without any up-front-costs. The screenings can even be used as fundraisers.
"I'm committed to helping transform the image of Latinos in the media by telling stories that aren't usually told," says Veliz.  "We are all used to seeing stories of gangs, maids, and other stereotypes, this film shows another side of the American Latino. Homebound is an American story, a human story told with an American Latino cast. The recent Academy Award nominations is proof that there's a lot of work to be done when it comes to inclusion of minorities in film" 
9 screenings of the film have already taken place in New York, El Paso, San Antonio, Chicago, Fresno, Austin, Atlanta, Los Angeles, and Laredo.
Dee Dee Garcia Blase a known community activist saw this film as an opportunity to support the Latino community and decided to host a screening of the film in the Phoenix area. The screening will take place January 29th  at the AMC Westgate 20 (9400 West Hanna Drive, Glendale, AZ, US, 85308 Tickets are $12.00 General) Tickets can be purchased: https://www.tugg.com/events/12691
Enrique Castillo, known for playing Montana in the film Blood in Blood out as well as many other roles will be in attendance as well as the filmmaker Fanny Veliz. Enrique Castillo was nominated for a SAG Award for his stand-out role in Showtime's wicked series "Weeds" where he plays the lethal Cesar. He guest starred on the CBS hit show "NCIS" and "Outlaw" opposite Jimmy Smits; and on the HBO series "Enlightened". Most recently starred in the in the film "Kill The Dictator" which broke box office records in the Dominican Republic. His in a gut wrenching performance in Fanny Veliz's indie film "Homebound" has earned critical acclaim. He recent guest starred in TNT "Major Crimes" in June of 2014.


Enrique is most recognized for his film role of Montana in Taylor Hackford "Blood In Blood Out" where he played the inspirational (albeit terrifying) leader of the Mexican prison gang. When the film was released, The New York Times singled out Mr. Castillos's performance in their review.
Homebound tells the story of Richard Lynn, a successful young Latino business professional who returns to his small hometown in Texas to help his dying father. His father insists he take over the family business, a bar. Secretly, the young man wants to burn down the bar because he blames it for the death of his own mother and the illness of his father. In the process he rediscovers his childhood's small town and falls truly in love for the first time.
The film features a cast of seasoned actors which includes Enrique Castillo, whose work in such films as El Norte, Mi Familia and the cult classic Blood In Blood Out have made him a fan favorite among Latino audiences and his role in Showtime's Weeds has made him a hit among mainstream audiences.  Texan born Julia Vera, who has built a career as a character actress in film and television for over twenty years is not only an actress in Homebound, she is also invested in the film as an associate producer.  Richard Lynn is played by a dynamic young actor, Jeremiah Ocañas, who not only plays the lead, he is also a native El Campo, Texas, where the film was shot. El Campo served not only as the prime location, but its citizens helped facilitate permits, meals, lodging, a source of talent pool for minor roles and the extras, and even a helicopter needed for the shoot. Fanny Véliz, in addition to her producing, writing, and directing duties also plays the female lead in the film.
Community is at the centerpiece of this undertaking.  It takes a community, and Véliz is hoping to once again enlist community and embrace the film through the " TUGG Community Screenings" concept, and help them raise awareness of the film.  For more information on the film Homebound go to  www.homeboundthemovie.com